Discover the Balkans through music. That is what AEGEE-Sofia and AEGEE-Niš are proposing for their Summer University (SU) "Balkan Beats". To find out more we did a little interview with the organisers to bring you some behind-the-scenes details.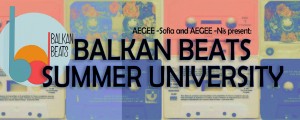 CWG: Tell us a bit more about your SU.
At our SU "Balkan Beats" we will help our participants explore and understand better Bulgarian and Serbian culture through traditional workshops, history workshops and visiting historical places and monuments, tasting local food and drinks etc. Considering the fact that Serbia and Bulgaria have a rich cultural heritage, these two countries have a lot to offer. Among several city tours and sightseeing, the participants will have the chance to hear about the history of our languages and learn a couple of words. They will also have the chance to learn some Bulgarian and Serbian dances and to hear some of the very typical music instruments, even try to play them. This along with the historical workshop we have prepared will help them to better understand our cultures.
CWG: Why did you choose this title for your SU?
We choose this title because we believe it perfectly describes our vision for this SU which is to show the culture of Balkan through music. With every beat of the songs students from all over Europe can feel and discover how every heart of Balkan people beats.
CWG: What makes this SU special compared to the one last year?
No matter how good SUs from last year were, we know that this one will be special because everybody loves and has music in their life in some way and this SU is all about music, both traditional and modern. And what better way to experience something new than through melodies that will get stuck in your head.
CWG: Name the activity that you think will be the most popular during your SU.
Visiting and being a part of Nisville jazz festival which is one of the biggest and most popular jazz festivals in the Balkan area.
CWG: What cultural activities do you have planned for your SU?
- visiting museums, galleries, monasteries
- workshops on different topics (Bulgarian and Serbian history and legends, Cyrillic alphabet, history of city of Niš)
- exploring Balkan culture, traditions and habits
- tasting typical Balkan food and drinks
- singing and dancing (non) traditional dances
CWG: Please describe your antennae in 3 words.
AEGEE-Sofia – imaginative, stormy, magnificent
AEGEE-Niš – learn, work, party
CWG: It sounds like a great SU. We wish you luck!
Jovana Trajkovic (AEGEE-Belgrade) & Sabina Guja (AEGEE-Cluj-Napoca)