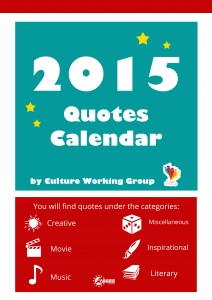 Quotes Calenadr 2015 is out!!!
With the help of Erika, Inge and Sabina, CWG managed to put together one of our best quotes calendars ever!
Thank you girls for all the hard work, but most importantly thank you to all the members who filled in our small survey and helped us gather the quotes.
We divided the year in six sections: art, music, literature, film, inspirational and miscellaneous quotes. In each month you can find quotes belonging to one of these sections.
You can download our calendar for 2015 on issuu.com or on dropbox:
http://issuu.com/cwg-movie/docs/quotes-calendar-2015/0
https://www.dropbox.com/s/gdxml8o2tsm0j7j/QUOTESCALENDAR15.pdf?dl=0
We hope you like it as much as we do and you will spend a very cultural year.